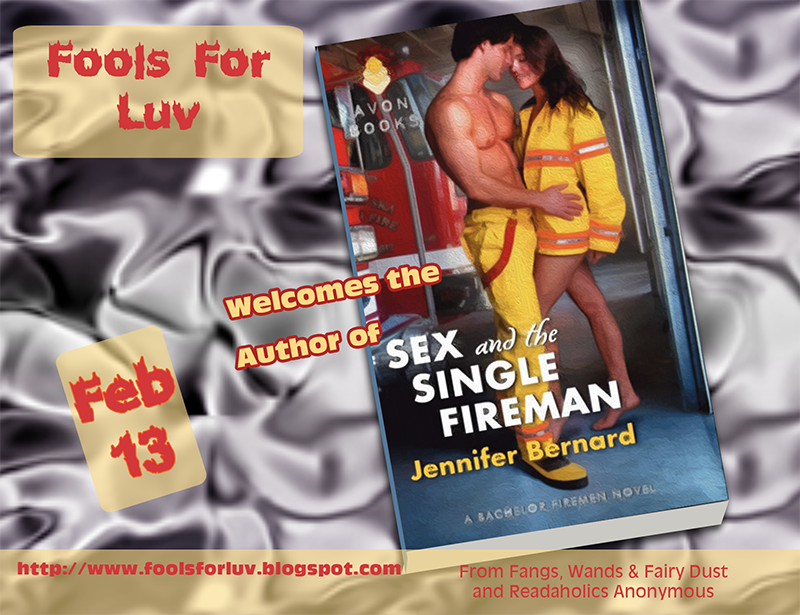 When we're little we want to be fire"men" but when little girls grow up it seems like a lot of us want to "do" firemen.
Jennifer Bernard asked her friends at the FD what they do to celebrate Valentine's Day. Want to see?
A Firehouse Valentine

by Jennifer Bernard
Since the heroes of my books are sexy firemen, I decided to check in with my favorite "fire consultant," a captain in Los Angeles, about the hot topic of Valentine's Day. Do firehouses do anything special to celebrate the Day of Romance? Do they decorate the station in pink streamers and put out bowls of candy hearts? Do they pass out hand-made "Be my Valentine" cards to their crewmates?
Apparently not.
Firehouses -- which are predominantly male, testosterone-packed hotbeds of masculinity – tend to ignore Valentine's Day. (I assume they remember when they get home to their sweeties, but that's another story.) So I think it's my civic duty as a romance author to come up with ways that the fire stations of the world can mark Valentine's Day. I hope all the Fire Chiefs will take my suggestions to heart.
1. On Valentine's Day, every fire rescue should be executed with a romance cover clinch, a la Fabio.
2. Intersperse the dispatch calls that come over the intercom with inspirational quotes about love. Example: "Structure fire at 2000 Main, Battalion 1, Engine 5, time of incident 9:03. Love means never having to say you're sorry."
3. Would it be too much trouble to stow the fire hoses in the shape of a heart? I don't think so!
4. Some fire departments already paint their fire engines pink for Breast Cancer Awareness month. For Valentine's Day, why not coat the fire engines in a thick, luscious layer of Godiva chocolate? The ladies will love it.
5. On the way to each fire, the crew should toss candy hearts to the crowds. "You light up my life," "On fire for you," "Together, we're combustible," "Don't play with matches" … the possibilities are endless.
6. Instead of using the same, boring old water to put out fires, fill the water tanks with pink champagne instead. It'll turn every fire into a party, and spraying alcohol on the flames would work just as well as water, right?
7. Under those padded firefighter coats, skip the t-shirt and go for black tie and tails. No need to change when it's time for that romantic Valentine's dinner, just strip off the gear and go. Leave the boots on. I think they're sexy.
8. Replace that annoying fire engine siren with Barry White songs, thereby filling the streets with a romantic soundtrack while racing to the fire scene.
9. Valentine's Day special promotion: Charge up your fire extinguisher, get an adorable free kitten!
10. When the cleanup after each fire is complete, scatter rose petals over the scene as a romantic finishing touch.
And there you have it. These are just a few thoughts on how to make firefighting more romance-friendly on Valentine's Day. But never fear, the firefighting profession is plenty romantic already. Strong, sexy men (and women, of course) throwing themselves into danger to protect others? Nothing's more romantic than that.
We heart you, firefighters! Happy Valentine's Day Eve.
GIVEAWAY US only, 18 plus The first two books in the Bachelor Firemen series to one winner ( THE FIREMAN WHO LOVED ME and HOT FOR FIREMAN). (The third is in one of our grand prize packages!)
a Rafflecopter giveaway
Bachelor Firemen
HOT FOR FIREMAN
Find Jennifer Online: Facebook
https://www.facebook.com/JenniferBernardBooks?ref=ts&fref=ts
website:
http://JenniferBernard.net