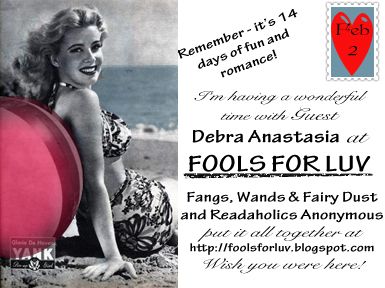 In this post Debra Anastasia shares a beautiful and poignant story that reminds us of the meaning of true love.
I write books with love stories in them. Good-looking young people with throbbing hormones fall in love and have to be with each other. It's an escape. It's a rollercoaster and that kind of love is terribly fun to write. But today I want to talk about a different kind of love.
Old people love. I know --you're rolling your eyes. Wrinkles, Ben Gay and passionate love scenes never really go together. I think we might be conditioned to expect firm butts and candlelight when we think of love. But some of the most stunning, real life stories aren't about the sweaty, sideways mamba. I'm going to give you an amazing example that's real.
Picture a couple, married in their early twenties, living through the depression era and WWII. Two children, five grandchildren and two great-grandchildren later, they still held hands. She fussed over his diet because of a heart attack he survived in his fifties. He danced with her in the small kitchen of the trailer they spent their days in
while retired in Florida. When the grandchildren called, she would get on one phone and he on the other, talking at the same time and often asking the same questions in tandem. They were so connected; maybe it was just the vast amount of time they spent together that created that distinct togetherness.
Time took its toll, as time does. In their eighties, they went about their days
helping each other get through daily tasks. His heart was always a concern and as they entered what surely was to be the twilight of their lives they made sensible decisions, for they were a sensible couple. Both agreed not to be resuscitated,
neither wanting to live reliant on machines. The day came when his gorgeous heart
failed but before he lost consciousness, he demanded that they fight for him and
ignore the DNR directive. Doctors and nurses are amazing, don't you think? And he
survived, but at a cost. He had trouble recognizing people. She was too frail to make
the trip to the hospital often and at times he was combative. A week passed. Two
weeks passed and he fought to come back to his family. Finally, finally he was able
to say names, recognize his people. He looked for her, but she couldn't make it to the
hospital. So he forced himself to walk until amazingly, he came back to her.
Their children helped him into their home and she rose to meet him. Him with a
cane and her with a walker-- they met in the middle of their sweet, small kitchen.
"It's you." She said.
"It's you." He replied.
They touched each other's faces. They held hands.
I'm not sure how much it hurts to take a breath after having two heart attacks, but
he did just that for weeks to be with her. The last attack was too much for even his
strong will. His final words were rejecting --yet again--the DNR orders. He wanted to
go back to her.
There were so many people at his funeral, all eyes on her, worrying how she would
do, how she could possibly manage.
It took a year. I'm not sure how much it hurts to live with half a heart, half a soul
but she did just that for almost exactly a year. You see, she was just a day shy of the
anniversary of his death when she returned to his arms in Heaven. She didn't even
try to fight, she wanted to go back to him so much.
After we were all done crying for the loss of the pair, we had to take a step back and
give them the most rousing round of applause. Because they did love so, so right.
So Happy Valentine's to the couples that have made it through that first
rollercoaster of love. If you get lucky enough to grow old together, you are blessed.
Author Bio:
Debra Anastasia is busy, just like every other mom. There's dinner, the dogs, the kids, and their homework. The laundry pile turns into a big, heaping monster. When the clothes finally make it into the washer, it gets
unbalanced and puts on an elaborate show before it cuts out. This crazy job that never ends is her first love and her crowning achievement.
Her writing started a decent handful of years ago when along with the dogs, cat, kids, and husband, the voices of characters started whispering stories in Debra's ear. Insomnia was the gateway for the plots that
wouldn't give up, wouldn't let go. In the shower, a twist would take hold and--dripping and frenzied--she'd
find somewhere, anywhere to write it down. Debra grew up in New York and got a bachelor's degree in political science at SUNY New Paltz. At the start of her marriage, she moved to southern Maryland with her husband. She still doesn't trust crabs and all their legs, though everyone else in her family thinks they're delicious. Her favorite hobbies include knitting, painting furniture and wall murals, and slapping clowns.
Omnific Publishing published her debut novel, #1 on Kindle Best Seller's list, Crushed Seraphim, and
its sequel Bittersweet Seraphim about a cursing angel. They also bravely published Poughkeepsie, which
a romance about a homeless man who counts the smiles of his dream girl. You can visit her website at
DebraAnastasia.com and find her on twitter @Debra_Anastasia.
Goodreads
Facebook
Twitter
Pinterest
http://www.DebraAnastasia.com
Google+
Poughkeepsie
He counts her smiles every day and night at the train station. And morning and
evening, the beautiful commuter acknowledges him-just like she does everyone else
on the platform. But Blake Hartt is not like the others . . . he's homeless. Memories
of a broken childhood have robbed him of peace and twisted delusions into his
soul. He stays secluded from the sun, sure the world would run from him in the
harsh light of day. Each day, Livia McHugh smiles politely and acknowledges her
fellow commuters as she waits for the train to the city. She dismisses this kindness
as nothing special, just like her. She's the same as a million other girls-certainly no
one to be cherished. But special or not, she smiles every day, never imagining that
someone would rely on the simple gesture as if it were air to breathe. When the
moment comes that Livia must do more than smile, without hesitation she steps into
the fray to defend the homeless man. And she's surprised to discover an inexplicable
connection with her new friend. After danger subsides, their smiles become
conversation. Their words usher in a friendship, which awakens something in each
of them. But it's not long before their bond must prove its strength. Entanglements
from the past challenge both their love and their lives. Blake's heart beats for Livia's,
even if her hands have to keep its rhythm. Love is patient. Love is kind. Love never
fails. Love never fails, right? In an interwoven tale of unlikely loves and relationships
forged by fire, Debra Anastasia takes readers into the darkest corners of human
existence, only to show them the radiant power of pure adoration and true sacrifice.
Complicated families and confused souls find their way to light in this novel, which
manages to be racy, profane, funny, and reverent all at once.
Amazon
Barnes and Noble
Crushed Seraphim (Seraphim Series #1)
How does a foul-mouthed angel end up as the last hope for all of Heaven and Earth?
When Seraph Emma is maimed and tossed from Heaven by a rogue angel who's
taken charge, she fears she'll never be allowed to return. Tasked with the impossible job of showing the self-loathing (and not even human!) Jason his worth, Emma is sure she's doomed to fail. Meanwhile, having wormed his way into Heaven, the corrupt Everett has trapped God in Hell and has designs on unleashing evil everywhere. Fortunately, if there's one thing Emma can't do (in addition to minding her language), it's give up. Determined to save Jason and get back to Heaven-even if it means going to Hell-Emma's plan is simple yet impossible: trick the Devil to save God. What she doesn't count on is the devotion and, well, humanity she finds in Jason; the spirit, hidden compassion, and raw sex appeal within the Devil; and
the vulnerability of her own heart. With the help of two unlikely allies, she'll wage
the battle for Heaven. But will Emma be sidetracked by a new sort of heaven along
the way? What's truly more dangerous? Falling from Heaven, or falling in love?
Debra Anastasia has twisted a fast-paced tale of intimate relationships with literally
universal impact. Rich with humor and electrified by attraction, this novel offers a
playfully off-beat take on the good and evil that make up the world.
Amazon
Barnes and Noble
Bittersweet Seraphim (Seraphim Series #2)
Suffering is worst when you're doing it alone. But Emma's taking Hell like an angel-
even though her languishing began with having her seraph wings torn from her
back. Now her worst enemy lords his body and his evil desires over her while she
tries desperately to remember the words to her favorite prayer. As Devil, Jack
used to have Hell and its women humming like well-oiled machines. Too bad he's
nowhere near the place now. Stuck on Earth as a human, he must work with a
ragtag team of exiled minions and half-breeds to save the angel who's become all
that matters. Rescuing a seraph is the plan, but breaking into Hell means letting
evil things out. Once they collide, minions and angels converge in the battle of the
ages: good versus evil. But which side is which? Will Jack destroy the world as he
fights to save Emma, his true and timeless love, from a damnation he designed? An
action-packed sequel to Crushed Seraphim, this tale reveals-time and again-what
happens when the heart's deepest desires break free. With a story both sizzling and
sensual, emotional and enigmatic, Debra Anastasia invites readers to join a battle
with nothing less than love on the line.
Amazon
Barnes and Noble
Debra is very generously giving away

One eCopy of Poughkeepsie (a novel)
One eCopy of Crushed Seraphim and
One Copy of Bittersweet Seraphim (digital copies are in winner's preferred format)
Set of two Crystal bracelets.
a Rafflecopter giveaway
TERMS
Entry Constitutes agreement to and verification of age
Open to International
Minimum age for entry is 18 years.
One Entry per person and/or per email per entry type.
Fulfillment of prize distribution by Author.
Neither the blog, nor the blogger bear responsibility for prize delivery.
Once a winner is chosen and an email set to notify the winner the winner has 24 hours to reply with the requested information.
Incomplete or incorrect information for an entry will result in voiding that entry immediately.
Email bouncing back will immediately void the win and that entry.
We reserve the right to change this giveaway and all terms as we deem necessary.
This is separate from any other giveaway we have.