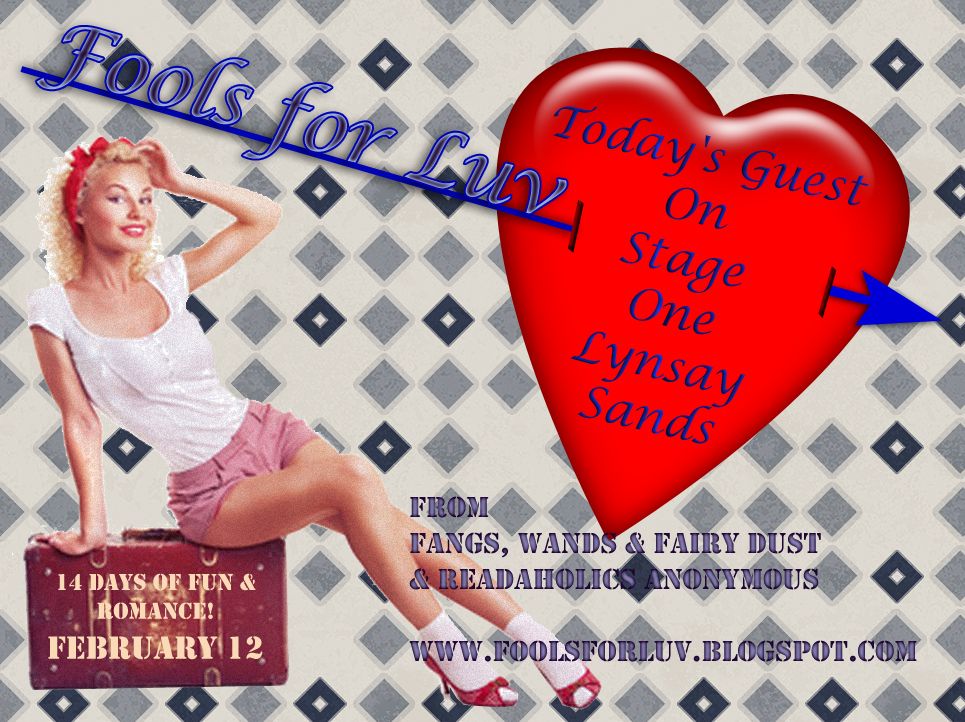 Lynsay Sands is the best selling author of both paranormal and historical romance novels. She came to my attention via her paranormal romance series about the Argeneau Vampires Immortals.

And as far as vampires immortals go she offers the best rationale I have ever seen (Nanites).

There's something about her characters innate nobility (mostly), their family ties and sexiness that made them one of my first loves in this genre.

Now working on another Argeneau book, out at the end of the month, IMMORTAL EVER AFTER
Valerie Moyer doesn't believe in vampires—until she is kidnapped by a fanged psychopath! After escaping her bloodthirsty captor, she's through with creatures of the night. Until she finds herself under the protection of the darkly handsome Anders. Not only is she expected to accept that Anders is immortal, but also that she is the woman destined to be his life mate!
Lynsay has sent us a little trivia quiz and a Valentine's recipe that's super easy and still super yummy! Scroll past Lynsay's post for info on the giveaway. A SIGNED COPY OF THE UK Edition of UNDER A VAMPIRE MOON.
A Little Trivia on the Argeneaus and what not to do to find your lifemate...

Name the Argeneau character that…
1. Slammed the door in his/her lifemate's face upon first meeting him/her…

2. Bought cheesy books like The Art Of Seduction and How To Get Laid Today from the bookstore to try to woo his/her lifemate…

3. Bit a mortal before realizing that the mortal was in fact his/her lifemate and then had to try to explain his/her way out of it since he/she wasn't able to use mind control on said mortal…

4. Is one of five immortals to respond to a Single Female Vampire Seeking Male Vampire ad…

5. Was unlucky enough to find a mortal lifemate that absolutely hated vampires due to a horrible past experience with one. (Luckily fate stepped in and this mortal lifemate ended up accidentally turning him/herself into a vampire.)

For answers please click HERE
One of Lynsay's Historicals
(this will take you, in a new window, to another blog I have, Winged Effigy)

Simple yet Yummy Dessert for Your Valentine…
Ingredients:
1 box 'No Sugar Added' Cherry Jello gelatin
1 pint whipping cream
1 angel food cake

Directions:
1. Boil ½ cup water and add Jell-O, stirring well.
2. Set aside; let cool until starts to gel.
3. Beat 1 pint of whipping cream until stiff; stir in the Jell-O mixture.
4. Ice your angel food cake.

Yum!

For the first chapter of IMMORTAL EVER AFTER please CLICK HERE!

GIVEAWAY!

TO Enter to Win a SIGNED copy of the UK edition of Lynsay's book UNDER A VAMPIRE MOON please complete the Rafflecopter form below.
Christian Notte's story, the sixteenth book in the Argeneau series is set on an island paradise called St. Lucia. After a bad relationship and an even worse divorce, Carolyn decides to go on a long overdue and much needed vacation with the 'girls'.





Only the rest of the vacationers didn't get the memo. Around every corner there seems to be another couple celebrating their honeymoon or anniversary and the few single men she does see are far too young to even consider, including an irresistibly attractive rock violinist she meets. It's really too bad he's so young but in the end it doesn't matter because according to his cousin, Giacinta, women in general aren't Christian's type.




But there's a catch, Christian needs Carolyn's help. He needs her to be his beard (to play the part of his fake girlfriend) for the week to appease his 'machismo' family. Carolyn just can't seem to say No and decides to help Gia's cousin. The only problem is that being around Christian and acting like they are a loving couple is wreaking havoc on her emotions. Carolyn's thoughts keep drifting back to places they shouldn't, like kissing his full lips or feeling his broad shoulders under her fingertips... good lord, she's in trouble.


All I can say is that this is my favourite Argeneau story to date. I hope you enjoy reading it as much as I enjoyed writing it.

http://www.lynsaysands.net/books/argeneau/vampiremoon.html
Giveaway Terms:
Entry Constitutes agreement to all terms and verification of age.
USA and Canada Addresses only
Minimum Age 18 years to enter
One Entry per person and/or per email per entry type.
Fulfillment of prize distribution by Author or her agent. Neither the blog, nor the blogger bear responsibility for prize delivery.
Once a winner is chosen and an email set to notify the winner the winner has 24 hours to reply with the requested information.
Incomplete or incorrect information for an entry will result in voiding that entry immediately.
Email bouncing back will immediately void the win and that entry.
We reserve the right to change this giveaway and all terms as we deem necessary.
This is separate from any other giveaway we have.
a Rafflecopter giveaway