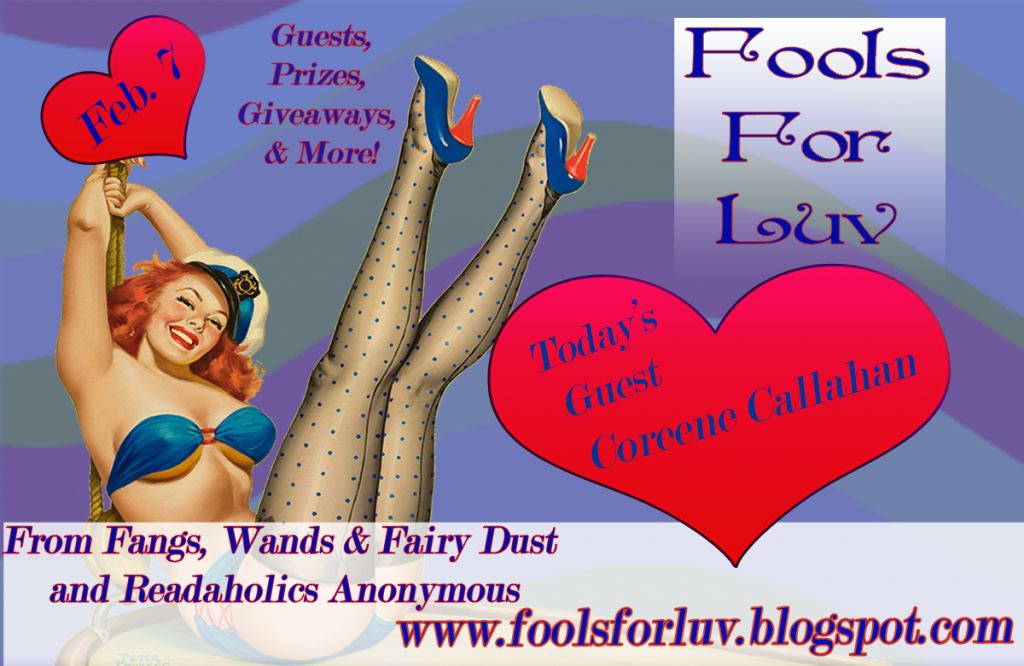 Turns out my friend Coreene knows about more than dragons! She has a good bead on what it takes to stay together and have a great relationship that in turn nurtures her whole family. That's a Valentine's Day Winner! She's also doing an INTERNATIONAL giveaway and has donated to the Grand Prizes as well!!!
MAKE VALENTINE'S DAY A REGULAR EVENT
by Coreene Callahan

St. Valentine's Day is just a week away. Are you excited? Planning all kinds of cool stuff for you and your significant other? I hope so. Celebrating the one we love, after all, is not only necessary, but a lot of fun too. We should do it more often, don't you think? I do, so today, I'd like to suggest something a little different as we approach February 14th. Make St. Valentine's Day a regular event in your house.
All right, I know what you're thinking…"what the heck does she meant by that?" Well, let me explain with two words…
For many couples, date night is a foreign concept. Not that we don't know about it—of course, we do—but if your house is anything like mine, life gets in the way and all hope of quality time with your spouse gets tossed out the nearest window. I should know. As a parent of three very active girls, some days I don't know which way is up. Most of the time, I find myself caught in the crosshairs, a bull's-eye on my forehead as I try to balance a busy career with the demands of motherhood. Toss in the house, the dog, and all the extras, like birthday parties, homework, hockey practice, art class and…yeah. You guessed it. The "us" time my husband and I need gets shoved onto the back burner.
Oh, I start out with good intentions. Schedules taped to the refrigerator door. Blocks of time crossed out in my iPhone agenda, and still, date night never seems to happen. At least, not with any regularity. Which is a problem. A big one, considering my husband and I are the foundation upon which our family is set. A foundation that needs to be rock solid if our children are to continue to thrive.
So what does that mean exactly?
Let me put it to you this way. A relationship is like a living thing. If you don't feed and water it—take time to nurture it—the relationship will eventually wither and die. So, when I talk about "us" time, what I really mean is "vital" time. Those precious few hours set aside every week for just one person…your partner, lover, and best friend.
Okay, granted…"us" time looks great on paper. An excellent theory with nothing but feel-good intentions when in reality, your days are filled with to-do lists a mile long. But here's the thing. Finding time for your significant other is easier than it sounds.
Sometimes, it's as simple as turning off the T.V., talking instead of watching. Sometimes, it's about dusting off the cribbage board (or whatever game you both enjoy playing) and laughing as you try to best each other in a game of chance. And sometimes, it's all about the kiss and cuddle in front of a who-the-heck-cares movie after the kids have gone to bed.
I learned this the hard way, because like or not, my husband and I can't always splurge on an exclusive restaurant or expensive trip. We have a young family, and let's face it children aren't cheap. So, in the spirit of keeping my budget-minded man happy, I started to get creative with not only our time, but our money as well.
For instance, the other night we played a crazy game of Scrabble after our girls went to bed. And by crazy, I mean wildly competitive. Sound boring? Not even close. I had the best time. We talked. We laughed. We tried to beat the pants off each other, and by the end, I felt closer to the man I love. But even better, I remembered why I like him, too. It didn't take much more than the willingness to sit down at the table and purposefully ignore the clamor of our busy lives, if only for a little while.
So, "us" time doesn't need to be complicated or fancy. It doesn't always mean hiring a baby sitter or spending a fortune at an upscale restaurant. You've got no one to impress but each other, so hey, have fun with it. Stay home, reinvent St. Valentine's Day, and try something new. Sit out on the back porch star gazing with a glass of wine. Cook together. Heck, make him the sous chef if you want to, but DO spend time with each other. Just the two of you, no kids interrupting, cell phones chiming or work files open on your laptops. Make the investment in your relationship and future happiness. Your spouse is worth it, and so are you.
So tell me…what have you got planned for St. Valentine's Day? Anything special? Use the Rafflecopter form and leave a comment for a chance to win an KNIGHT AWAKENED
(autographed print copy or a Kindle ebook copy…winner's preference).

ABOUT COREENE!
Coreene Callahan is the bestselling author of the Dragonfury novels and Circle of Seven series. For more about her and her books, please visit her website
www.CoreeneCallahan.com
or stop by her
Facebook author page
to keep up with the latest news.