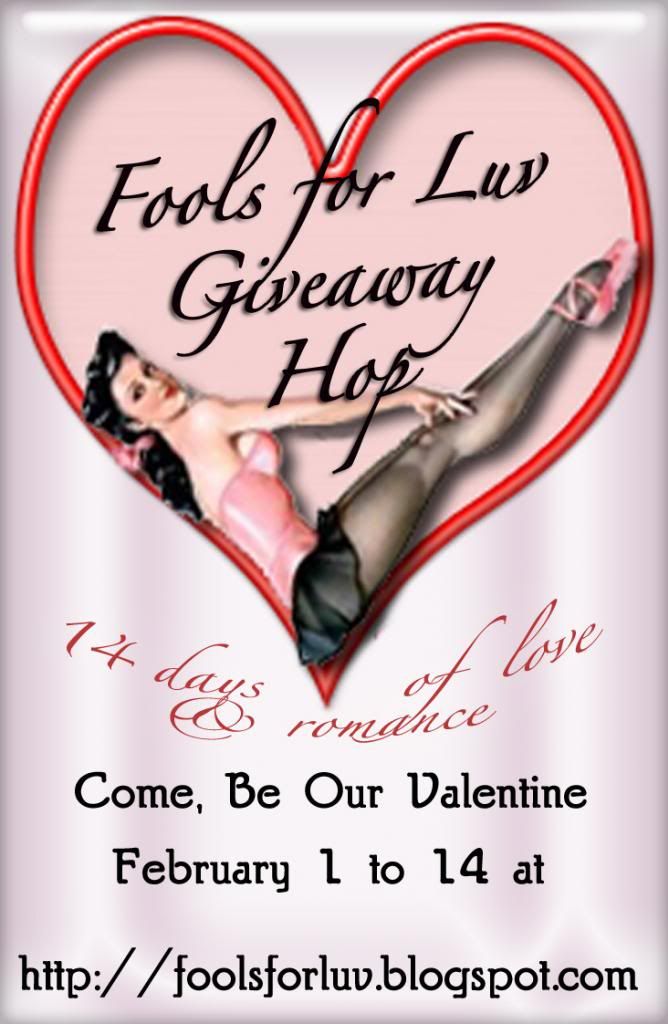 FOOLS FOR LOVE GIVEAWAY HOP AND GRAND PRIZES
THE HOP DOESN'T OPEN FOR ENTRIES UNTIL 2/1
but take a look at the awesome participating blog and the grand prize packages!
It's Finally here and we are very excited to offer you an exciting event with 14 days of posts and prizes from top shelf authors and bloggers along with a fourteen day giveaway hop and our fabulous grand prize offerings of SEVEN Grand Prize Packages donated by a bevy of fabulous individuals and companies. Thanks to the many donors - corporate and wonderful authors who made donations to the event or helped sponsor the expenses.
Here are our Grand Prizes, followed by our entry form and then the list of other sites on the hop. You can go from one hop site to another and enter to win dozens of prizes.
Our hop prizes - well I divided them up and then if anyhting else comes in, I will randomly assign it to any package that doesn't have that item in it. So they'll be surprise bonuses assigned at the end of the event!
Rules are right under the Rafflecopter form. Due to the number of prizes, all prizes are available to USA only addresses. And, you must be at least 18 to enter.
Here are pictures of and contents: Stand Fabric, and other display items are not included.
PRIZE A
Prize Package A
: Swag,
Fair Game
by Taylor Keating,
Touch of Steel
by Kate Cross,
Scorched
by Laura Griffin,
Edge of Sanity
by Shannon K. Butcher, and
Ember's Kiss
by Deborah Cooke.
PRIZE B
Prize Package B
: From Suzanne Johnson's Sentinels of New Orleans a Honorary Sentinel T-Shirt, a copy of
River Road
and
a copy of
Royal Street
(both signed) , Fleur de Lis bar coasters, a bracelet from Debra Anastasia with
Crushed Seraphim
cards, and assorted swag.
PRIZE C
Prize Package C:
I think of this package as the Indulgences package. It contains
A Taste of Scandal
by Erin Knightly,
Colorado Heart
by Cindy Holby,
Her Highness and the Highlander
by Tracy Anne Warren, Bookmarks, 2 Sephora Body Wash pods, a notepad and a pen from Gabrielle Bisset.
PRIZE D
Prize Package D has assorted swag from Coreene Callahan, Gabrielle Bisset, and Lara Adrian,
Edge of Sanity
by Shannon K. Butcher,
Ember's Kiss
by Deborah Cooke,
Angel's Flight
, and
Angels Blood
both by Nalini Singh, and an arc of
Ghost Planet
by Sharon Lynn Fisher, and a pen from Gabrielle Bisset.
Prize E
Prize Package E: This has something for lovers of adult and YA genre fiction. Bookmarks, one of Gabrielle Bisset's Pens,
Lightbringer
by K.D. McEntire, and ARC of
Alice in Zombieland
by Gena Showalter,
Then Came You
by Jennifer Weiner,
Next to Love
by Ellen Friedman and
Ember's Kiss
by Deborah Cooke, and a flash drive from Scholastic with an intro to a free reading app.
Prize F
Prize Package F
: This has one of LL Bean's famous tote Bags embroidered with Fools for Luv, and Coreene Callahan's
Knight Awakened
and
Fury of Fire
, plus some bookmarks!
PRIZE G






Prize Package G :
Edge of Sanity
by Shannon K. Butcher, and
Ember's Kiss
by Deborah Cooke,
Heartbreak Creek
by Kaki Warner,
Colorado Heart
and Claire Ashgrove's Immortal Surrender, handmade jewelry by Debra Anastasia, Ellora's Pack Trading Card, and one of their "Clicky for a Quickie" clickers.
PRIZE H
Prize Package H
: Consists of a $25 Amazom Gift Code from Joey W. Hill (emailed from her), (mailed from us)
Edge of Sanity
by Shannon K. Butcher and Ember's Kiss by Deborah Cooke and some bookmarks.
All of these items have been readied. Are you ready to enter???
Enter Using this Entry Form:
a Rafflecopter giveaway
RULES
Entering the Contest certifies and affirms that you have read the rules and affirm that you are indeed over 18, have a USA address and agree to the contest terms.
1. You MUST be at least 18 years of age.
2. You must have an address in the United States where you can take delivery of the prize package.
3. You must provide all requested information and it must be the correct information. Incorrect information shall immediately void the entry.
4. Once a winner's email is sent the winner will have 24 hours to respond. If that person doesn 't respond the n each other winner will move up a slot and a new winner for the last position shall be chosen.
5. Contest goes from 12:00 AM on February 1, 2013 through to the very last second of the calendar date February 14, 2013.
6. We reserve the right to make any changes we deem necessary and remain the sole abiters of any decisions to be made in reference to the contest..
7. Prizes may ship in separate packages (media mail and regular). Once we ship a prize we are not responsible for loss or damage in shipping.
8. Once we notify the provider of a prize not shipped by us we no longer have any ability or responsibility for the prize. All are offered in good faith.
9. We have no responsibility to police, control, change advise, instruct or in any way administer the activities of any of the other blogs in the hop. We neither know nor endorse the blogs, authors, or their prizes.
10 Void where Prohibited.
We urge you to visit and enter contest being offered at these sites: